FORB Launch Pad Golf Practice Mat [2ft x 1ft]
FORB Launch Pad Golf Practice Mat [2ft x 1ft]
Work On Multiple Strokes With Your Very Own Artificial Fairway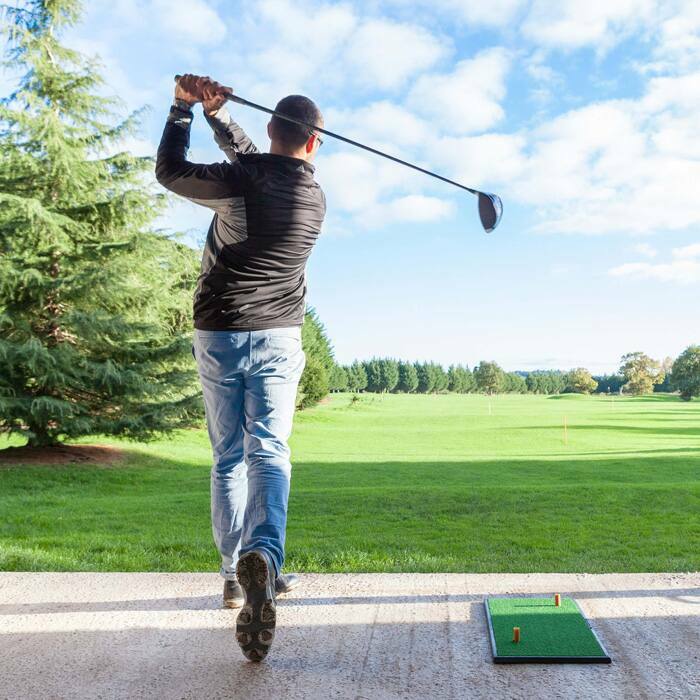 Multi-Stroke Hitting Mat
From chips to drives, this versatile compact hitting mat will prove a vital training aid as you strive to improve your approach play, shaving strokes from your handicap in the process.
Fairway Simulation Mat
The high quality 8mm thick artificial grass which makes up the fairway creates the look and feel of a genuine course. Keep your skills ticking over away from the course.
Golf Practice Anywhere, Anytime
At a miniscule 60cm x 30cm, this golf hitting mat can be layed down with ease, making it perfect for indoor and outdoor golf practice alike. All you need is a flat surface and you're good to go.
Description
Compact Fairway Practice Mat To Launch Your Short Game To New Heights
This mini golf mat will lead to sizeable improvements in your overall game. Designed to replicate the conditions of a real course, the artificial fairway can be used to work on all areas of your approach game. Perfect for mastering the faintest of chips, the removable rubber tees allowing it to perform double-duty as a home driving range mat. Versatile and highly effective, this golf practice mat will raise your stroke techniques to PGA Tour levels.
The compact nature of this golf practice mat makes it easy to transport and store. Lending credence to the term good things come in small packages, this 60cm x 30cm hitting mat provides a representative fairway simulation which can laid down for use on any surface. Whether you're sharpening your chip-and-runs at home or adding yardage to your long iron strokes, this professional golf practice mat will help you steer clear of bunkers.
No need to confine your clubs to the carry bag when you can't make it to the course. The ultra-realistic 8mm thick artificial grass will create the consistency found on the fairways at Augusta, leading to highly effective stroke practice. Its extremely durable rubber base boosts the longevity of the mat, guaranteeing countless multi-stroke practice sessions. Realistic and built to last, this the best fairway practice mat on the market.
Suitable for use as winter golf mat as well as during the fairer weather, this adaptable fairway mat can be used both indoors and outdoors. No set up is required as the mat simply lays down on any flat surface, allowing you to get into the swing of your artificial fairway in a matter of seconds. Perfect for learning how to reach the green in less strokes, the FORB Launch Pad Golf Practice Mat will raise your game and lower your handicap.
Specifications
Size
Materials
Grass - 8mm thick artificial grass which accurately replicates the consistency and look of a genuine fairway
Base - Highly durable thick rubber base
Miscellaneous
Portable and easy to store due to its compact size
Includes 1 removable rubber tee
Suitable for indoor and outdoor use on any flat surface
Don't just take our word for it
really good for practising chipping in the garden
Want to chat?
We're here now on

live chat

right now!
Buy today, play tomorrow
Order by 9pm for next day delivery
Questions & answers
Ask fellow customers what they think!
Hide Q&As
Questions & Answers
No one has asked a question yet!
You may also like
FORB F-5 Golf Balls - Tour Quality Golf Balls
£5.99
FORB Home Golf Putting Mat
£42.99
FORB Tri Turf Golf Hitting Mat [2ft x 1.3ft]
£39.99
FORB Launch Pad Golf Practice Mat – Dual Side [2ft x 1ft]
£24.99
FORB Academy Golf Practice Mat [5ft x 3.2ft]
£49.99