FORB Pro Driving Range Golf Practice Mat
FORB Pro Driving Range Golf Practice Mat

FORB Pro Driving Range Golf Mat – The Ultimate in Realistic Fairway Simulation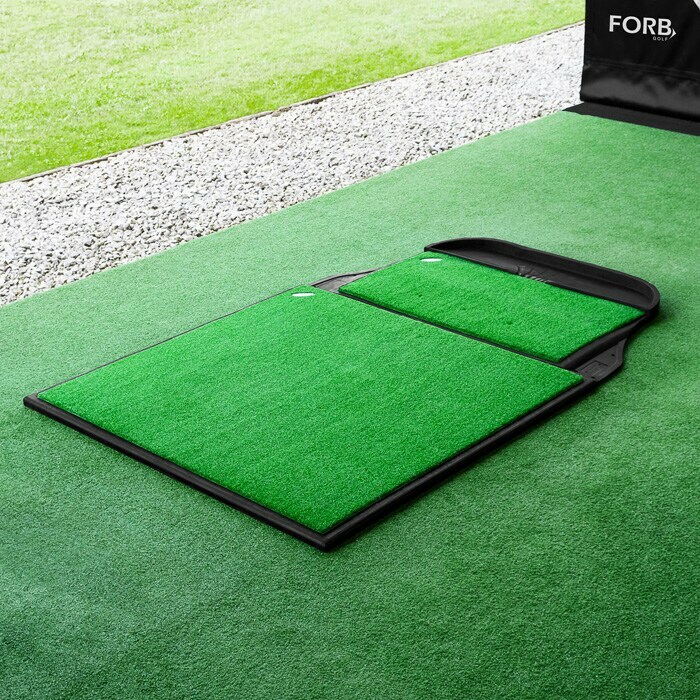 Two Mats in One
This top quality practice mat features a round-winning combination of a stance mat and artificial fairway. This allows all aspects of your long-game to be worked on.
Realistic Fairway Simulation
Feel like your stepping out onto a genuine fairway without leaving your home. The 15mm thick artificial turf is highly evocative of the conditions found on the course.
FORB Golf Balls Included
To complete the golf practice package, a free pack of 3FORB F-5 Tour Quality Golf Balls are included with each mat. These golf balls are set to make a splash on the golf market.
Description
Premium Quality Golf Hitting Mat To Raise Your Long Game To PGA Standards
Designed to provide a professional quality fairway simulation while protecting your garden from the detrimental impacts of divots, the FORB Pro Driving Range Golf Practice Mat is a game-changing way to lower your handicap. Perfect for golfers who take their practice rounds seriously, this long-lasting and realistic artificial fairway will bring your long-game up to par.
The versatile golf practice mat allows you to master your stance as well as the motion-range of drive strokes. Consisting of both stance and fairway mats, this premium golf training aid covers all bases. Both mats have been made from incredibly realistic artificial turf, replicating the conditions of a genuine course. This practice mat is as close as you can get to the real thing.
There's nothing fair-weather about this artificial fairway. You won't have to call an end to your golf practice during the inclement winter months, as this artificial driving range is suitable for indoor and outdoor use. Capable of combatting all weather conditions, this highly durable and adaptable golf hitting mat is a sure-fire way of shaving strokes off your average round.
Setting up the practice mat is a real gimmie. To get the golf practice underway, all it takes is simply slotting the longer edge of the fairway mat side by side with the large driving range mat. A rubber ball tray is included as standard, featuring the capacity of holding dozens of balls. There are also a variety of rubber driving tees included so you can work on a variety of clubs.
As an extra gift, the driving range practice mat comes equipped with a free pack of FORB F-5 Tour Quality Golf Balls. These top of the range golf balls have been expertly manufactured to enhance the distance that you achieve off the tee due to their high quality urethane cover and four piece design.
Specifications
Dimensions
Stance Mat - 116cm (46in) x 116cm (46in)
Anti-Skid Mat - 122cm (48in) x 122cm (48in)
Fairway Mat - 92cm (36in) x 78cm (31in)
Miscellaneous
Grass Thickness -Mat comprises of 15mm (0.6in) artificial turf which feels like the real thing
Assembly - Slots the long side of the fairway mat base alongside the larger driving range mat
Rubber Ball Tray Holder - Has the capacity to securely store dozens of balls, keeping them bunched together throughout practice
Removable Rubber Tees - Various tees included for different types of clubs
Free FORB F-5 Tour Quality Balls - Pack of 3 high quality four-piece golf balls included with each mat
Don't just take our word for it
Want to chat?
Contact us here and we'll get back to you as soon as possible.
Buy today, play tomorrow
Order by 9pm for next day delivery
Questions & answers
Ask fellow customers what they think!
Hide Q&As
Questions & Answers
No one has asked a question yet! Be the first to ask one.
FORB Pro Driving Range Golf Practice Mat
Thank you!
Your answer has been submitted.
We really appreciate you taking the time to help other customers, so please check your emails for a little thank you from us.
FORB Pro Driving Range Golf Practice Mat
What would you like to know?
Thank you!
Your question has been submitted. You'll receive an email when an answer has been received.
Can't hang around? Contact us and we'll get back to you right away.
You may also like
FORB Launch Pad Golf Practice Mat – Dual Side [2ft x 1ft]
£26.99
Socketed Golf Cage & Net - Professional Range
£359.99
Freestanding Golf Cage & Net [Home Driving Range]
£289.99