FORB Deluxe Golf Shag Bag
FORB Deluxe Golf Shag Bag
Deluxe Golf Practice Ball Bag – 85 Golf Ball Capacity
Instant Locking Device
The aluminium collection tube of this golf ball picker upper utilises a reliable automatic locking system. This instant closure negates the risk of golf balls falling out of your shag bag.
Hard-Wearing Carry Bag
Designed to store up to 85 golf balls, this collection tool features a heavy-duty nylon storage bag. This dependable material will not rip or tear under the weight of multiple golf balls.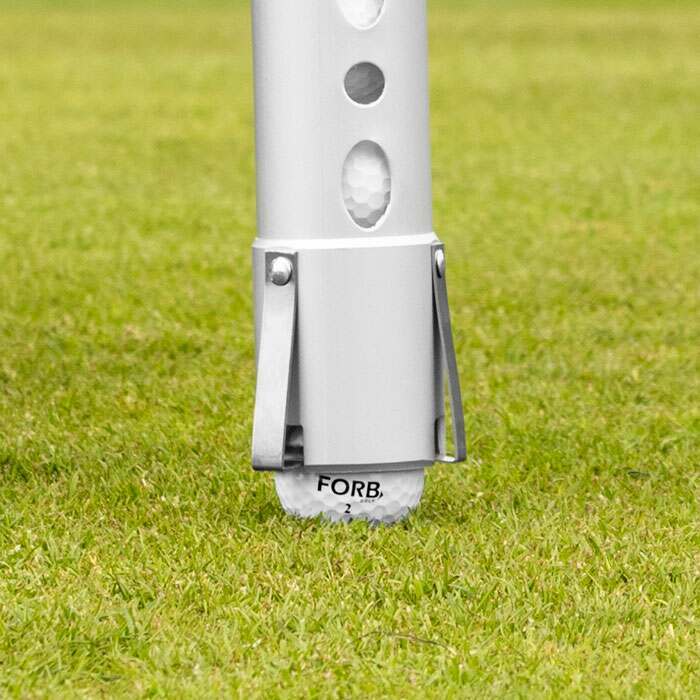 32 Inches Tall
To eliminate back strain, the FORB Deluxe Golf Shag Bag stands at a height of 32 inches. This large size greatly reduces the stress your back faces while retrieving golf balls.
Description
FORB Deluxe Shag Bag – The Ultimate Golf Ball Collection Tool
Designed to save time, this high-quality FORB Deluxe Shag Bag will allow you to effortlessly and quickly collect a large number of golf balls in the back garden or on the practice green. Constructed with an ultra-durable nylon storage tank, this golf ball collection tool is capable of storing up to 85 golf balls at once. The impressive size of the FORB golf ball picker upper storage tank allows you to store and transport a considerable number of golf balls.
The tube of this golf ball collector is manufactured from heavy-duty aluminium.This premium material will not bend while you collect your golf balls, providing years of exceptional performance. This long aluminium tube also utilities an automatic locking system to guarantee your golf balls will not fall out of this reliable golf ball retriever.
To reduce potential back fatigue the FORB Deluxe Shag Bag stands at a height of 32 inches. This long length allows players to collect their golf balls without the need to constantly bend their back, in turn minimising the danger of back-related injuries.
Specifications
Dimensions
Height x Width: 32 inches x 6 inches | 82cm x 16cm
Materials
Collection tube: Heavy-duty aluminium
Storage bag: Hard-wearing nylon
Miscellaneous
Holds up to 85 golf balls
Automatic locking system stops golf balls falling out of this ball collection device
Zip fastener provides quick access
Don't just take our word for it
Want to chat?
Contact us here and we'll get back to you as soon as possible.
Buy today, play tomorrow
Order by 9pm for next day delivery
Questions & answers
Ask fellow customers what they think!
Hide Q&As
Questions & Answers
No one has asked a question yet!
You may also like
FORB Launch Pad Golf Practice Mat [2ft x 1ft]
£16.99
FORZA Pop-Up Golf Chipping Nets [Long Distance Targets]
£12.99
FORB Golf Tees - 200 Jumbo Pack (Mixed Size)
£6.99
FORB F-3 Golf Balls – Ultra Precision Golf Balls
£5.99
FORB Home Golf Putting Mat
£42.99